Show Posts
This section allows you to view all posts made by this member. Note that you can only see posts made in areas you currently have access to.
Topics - MJalive999
Filter to certain boards:
Pages: 1 [2]
16
« on: April 26, 2010, 01:42:22 AM »
[youtube:1hwtg7oz]http://www.youtube.com/watch?v=yVfwCrxTl0Q[/youtube:1hwtg7oz]
17
« on: February 25, 2010, 06:41:28 AM »
check out this: You are not allowed to view links.
Register
or
Login
On the top of the mountain (pyramid) you see the Osiris EYE:
Favorite Illuminati Symbol: The All-Seeing Eye. New World Order Currency: The all-seeing-eye on the dollar bill. Below the illuminati pyramid/eye symbol are the words: "Novus Ordo Seclorum," which can be translated as: "A new order of the ages"

The Serpent promised Adam and Eve that their eyes would "be opened" if they ate of the fruit of the tree of knowledge of good and evil. The key word in this passage is eyes, which in Hebrew can be translated "knowledge." Opened can be translated "broadened." What the Serpent promised Adam and Eve was that knowledge would be broadened if they ate of the forbidden fruit.

But the most foreboding aspect of this Scripture emerges from the fact that the Hebrew word for "eyes" is not plural, but singular. What the Serpent actually told Adam and Eve was that their "eye" would be broadened by knowledge.

The "eye" that Scripture wants us to consider is not the physical organ of sight, but the eye of the mind or the soul. This singular "eye" is called the "third eye" of clairvoyance in the Hindu religion, the eye of Osiris in Egypt, and the All-Seeing Eye in Freemasonry. (SOURCE: John Daniel, Scarlet and the Beast , Vol. III, pp. 6-7)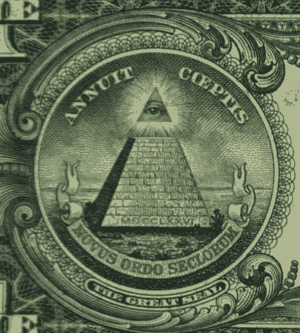 google page:
18
« on: February 24, 2010, 10:52:57 PM »
[youtube:1bkcv8i4]http://www.youtube.com/watch?v=R_5qAp56zps[/youtube:1bkcv8i4]
i am so sorry Samantha de Gosson! :roll: :roll:
(Yes, dileo is reliable. Like Branca and ...Tohme XD)
19
« on: February 22, 2010, 01:30:35 AM »
JOE JACKSON is convinced his son MICHAEL approached ELVIS PRESLEY's former doctor to prescribe him drugs prior to his death last June (09) - and wants the medic investigated by officials.
The Jackson family patriarch was granted permission by a Los Angeles judge on Friday (19Feb10) to trawl through his late son's medical records, after the King of Pop's personal physician Dr. Conrad Murray pleaded not guilty to a count of involuntary manslaughter.
Murray stands accused of administering the dose of powerful anaesthetic Propofol which killed the star.
But Joe Jackson has claimed Murray is not the only high-profile doctor who could be linked to Michael's death. He is sure his son also consulted the man who treated late music icon Presley - George Nichopoulos, also known as Dr. Nick.
And he wants cops to question Dr. Nick over his dealings with the King Of Pop.
He tells Britain's Daily Star Sunday, "All of these guys that gave Michael what they shouldn't have need to be looked at.
"We have heard that Michael even tried to get drugs from Elvis' doctor - some guy called Dr Nick. There's a whole bunch of other people that need to be questioned too.
"Michael was not well. We tried to help him but we couldn't get to him. People stopped us from getting to him. There were more people involved than Murray. Murray is just the fall guy.
"I will not stop until I get justice for my son. Justice means a murder charge for everyone involved. All I am after is just justice, that sort of a thing."
You are not allowed to view links.
Register
or
Login
:lol: :lol:
20
« on: February 21, 2010, 04:21:14 PM »
[youtube:hhyaxr6f]http://www.youtube.com/watch?v=Cb62OuiyNNo[/youtube:hhyaxr6f]
21
« on: February 05, 2010, 12:47:07 AM »
Who is The Liar?
ooowww i said 'bad '' things about BoW. I said She Was fake ... yap.
As You Can See ... I Was Right!
I DONT NEED TO LIE!
I
Love
Michael, I am his
fan
, I
respect
him, and i don't need to lie to promote myself
22
« on: January 18, 2010, 11:10:26 AM »
[youtube:3mlc14ss]http://www.youtube.com/watch?v=UCg_Cz6tjSo[/youtube:3mlc14ss]

*Send this to Kenny Ortega. Pls.
Thank you!
23
« on: January 15, 2010, 03:40:49 PM »
8:27
[youtube:ynf3u7nw]http://www.youtube.com/watch?v=JzPSWQYRRrQ[/youtube:ynf3u7nw]
how many of you rly know why he did it?
how many of you believe (OR READ) TIAI??
He is alive, we don't need more videos about it!
This is not a question of ''i love mj'' this is a question of FAITH!
MJ is a gift from God. He is here for something more important than you can imagine!
I get sick when i see believers losing faith ... for nothing!
Or you believe or not!
True fans believe! They never change their opinion!
We need to know WHY he did it!
The real purpose of the HOAX!
if you only care about when he will come back and not
why
he did it...
i am sorry.. you will ruin his return. If he never return ... will be your guilt.... ignorance, lazzines and selfishness can not ruin this shout of FREEDOM!
wake up, guys!
this is more than a HOAX or a RETURN!
24
« on: December 23, 2009, 09:14:19 AM »