1
« on: April 13, 2010, 07:41:14 PM »
Maybe NOT a thousand, but certainly has several
coincidences.

I may be reading MORE into this photo, than necessary. I wanted to post it though, to see if anyone else sees any
significance
.
To me, this photo appears somewhat "staged". Usually MJ, has an entourage of bodyguards around him. I would think that this scenario would be no different, ESPECIALLY, since he is at the mercy of
anybody
(vunerable), while riding in that wheelchair. Michael seems to be looking right at whomever snapped the shot. Plus, if you look at the windows reflection, I don't see any people whatsoever. If this was a random shot of MJ, then wouldn't there be
foot traffic
?
BTW...Just because MJ's, physically in a wheelchair...
DOES'NT MEAN, he's
injured
or is in
poor health
,
frail
, etc).
Now to my "point"..
I hadn't noticed the background BEFORE but, someone else pointed out how the Twilight (movies), are displayed in the window.

I researched to see what the significance of Twilight ECLIPSE was, and found a link to this (excerpt)
The book jacket features a torn
red ribbon
. Although it was supposed to be disclosed to the public in May 2007 at the Eclipse Prom, Barnes & Noble, Stephenie Meyer's official website premiered cover in March 2007, along with a preview summary of the book's plot. The title, Eclipse, is a reference to Jacob and Edward. While talking to Bella, Jacob refers to Edward as an Eclipse, after Bella refers to him as her 'personal
sun'
. In the end, an
eclipse will always overpower the rays of the sun.
[1] The broken ribbon represents
choice
, as in the book Bella must
chose between her love for
Edward Cullen, her vampire boyfriend, and her friendship with Jacob Black.
Meyer also stated that the ribbon represents the idea that Bella can't break away

completely

from her human life.[2]
choose between her love for...
(ie..continuing to be
King of Pop
) or faking his death
(for whatever reason)
A couple of other similarities...
MJ's "overly" white makeup (
at certain times)
. Before anyone gets offended...
I KNOW that he had, Vitiligo, but there "were" instances where his makeup was excessive, appeared almost
ghostly
.
Perhaps, he was sending a message.
IE...
Vampire
(pale skin,
LIVES FOREVER!
MJ's
"Invinceable"
album Title
An early book release also occurred with Stephenie Meyer's release of Eclipse Special Edition. The special edition was to hit store shelves on May 31, 2008, but multiple copies were released up to a whole week early. Stephenie Meyer herself knew that some copies had been leaked, and released the following quote:
"There is a lot of speculation on the internet about possible covers, content and text of

Breaking Dawn

. I hope everybody knows that you shouldn't believe everything you see on the internet. The only way you will know what is real is when you have the book in your hands.

Until then, people should really take everything they see with a grain of salt.
Breaking Dawn (above) MJ's-
"Break of Dawn"
I...don't ...want... the... SUN... to.. "rise"...
[/color]
Again, tying into the vampire theme.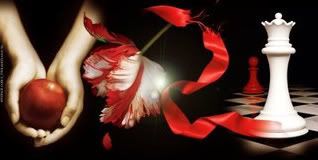 Arms holding the apple reminds me of
MJ's "peace" sign
(forearms/MJ's
fingers
).
I also Googled

Red Ribbon significance

and found this (excerpt)...
You are not allowed to view links.
Register
or
Login
Narconon of Georgia Celebrates
Red Ribbon Drug AwarenessWeek.
On
October 26th, 2009
.. downtown Atlanta played stage to a live band as Narconon of Georgia celebrated Red Ribbon Week at Woodruff Park. A local band, sponsored by Narconon, took center stage at Woodruff Park, on the corner of Auburn Avenue and Peachtree Street downtown.
The songs, written by Michael Jackson
[/b] :?: , Louis Armstrong, as well as original compositions, had park goers dancing.
(WHAT songs?)
:shock:
picture of the "local band" who performed...
I think it's wierd that the article never mentioned the Bands
"name"
?) More importantly, why is this guy dressed like
MJ
similar style to
Liberian Girl
) :?: Perhaps they're
Messengers
...trying to show us what's REALLY going on. (is Michael, receiving "treatment?")
OR...
Red Ribbon Drug Awareness
The
"symbolism",
speaks volumes.
MJ & Drug (overdose)
, used in the same sentance, is an
"OXYMORON!"
IE..MJ, would never be
careless
in regards to, "drugs"
(prescribed or otherwise)
Therefore, we shouldn't be QUICK to believe that what was told to us, is true.

Maybe "that's" what we're to take away from that event. If anything.
Does anyone know if there was an
Eclipse
, the night of the "supposed" BURIAL? Interesting... how it was done at "NIGHT." (wink)